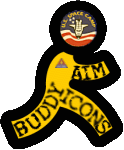 I've added to the HabFiles section of the site!
Added are a few AIM Buddy Icon-sized images of various Space Camp logos.
Download them and display your pride for Space Camp every time you talk to your friends!
Enjoy!
AIM Buddy Icons
Here are some Space Camp-related Images for use as AIM Buddy Icons. Simply right click on an image and select "Save Image As…" From there, save it to some location on your computer and select the newly saved image from the Buddy Icons section of your AIM Preferences. Enjoy!