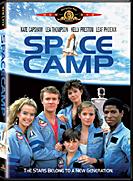 On March 2, 2004, MGM Home Entertainment is going to rerelease SpaceCamp (now listed as "Space Camp") on DVD. Unfortunately, it still looks as if there aren't going to be any decent special features, and I'm reasonably sure it won't be in Anamorphic widescreen.
Also, it appears as if the full frame version of the film that was present on the Anchor Bay release will not be present.
Still, this is good news for anyone who was thinking of overpaying for one on eBay.
The DVD can be pre-ordered at DeepDiscountDVD for only $9.12 including shipping! Or, if you'd rather order it from Amazon, you can get it for $12.71.