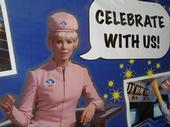 Even if you don't want to sign up for a MySpace account, I would like to stress that you should definitely go check out the Space Camp "Alumni Andy" page!
The blog is an especially good read (and not just because this site was mentioned)!
In it are some very good details (with many more to come, I'm sure, so keep reading) including:
Space Camp has registered spacecampalumni.com to reach out to alumni (it's about time…they have a start, at least).
Also, there's a sweepstakes you can enter to get a free trip to camp (or a shiny 25th anniversary silicone bracelet, at the very least).
But you'll have to visit the blog for that link!