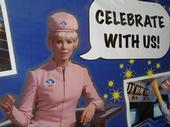 I've been late in getting this one out; my apologies.
Alumni Andi was back last week to disclose the final plans for the 25th Anniversary Hall of Fame Event.
Though not yet the official word from above, I'm willing to bet it's accurate.
Details from the posting: It'll be downtown at the von Braun Civic Center.  Tickets will be $100 for alumni who purchase by May 13th and $150 for the general public.  Tickets will be available at the museum front desk, through reservations, and online.
I guess they decided to go big and, I assume, black tie with this!  Should be a fun night!
Cooler still is the Alumni Banquet they'll be holding on June 16th with MAXQ playing the gig!  Tickets for that will be $35.  If you're signed up for the alumni camp that weekend, you're golden.
Finally, there was a rather disturbing piece of her post that essentially said that people such as Ed Buckbee and Dr. von Teisenhausen have not yet been nominated for the Hall of Fame!
They will of course need at least one person to nominate them to be considered.  In all fairness, one would have thought a select few would have been above the standard nomination rules…apparently not!
So, let's do this in an organized fashion.  Go read her post, look at some of the names she's mentioned.  If you know the name and go, like I did, "Oh gosh!  I can't believe XYZ-person might not make it in," then go and nominate them and then come back and post here.  I wouldn't worry too much about the address and such…I'm willing to bet they know how to get hold of most of them.
I'll start with Ed Buckbee.
Andi, you can expect my form within a few days as it will be going out in the mail today.
By the way, and this is just an aside, did you know Ed Buckbee is listed in the phone book?!  That seemed really wild to me!  To paraphrase heavily a line from a movie, the guy that founded Space Camp shouldn't be in the phonebook.  He should be on Mars or Neptune somewhere.
Anyway, that's one down.