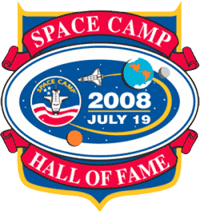 The 2008 Space Camp Hall of Fame webcast is now up online as a streaming video!
The link to the video was just posted to the Alumni Page as follows:
View the July 19, 2008 Hall of Fame induction ceremony … today. This video is approximately 3 hours in length and can take up to 30 seconds for the video to buffer. Click here to watch the archived video.
In order to be able to skip around the video with minimal issues, I recommend using VLC Player over Windows Media Player to watch the stream.
Also, some time ago, photos from the entire Apollo Reunion / Hall of Fame weekend were published online as well.