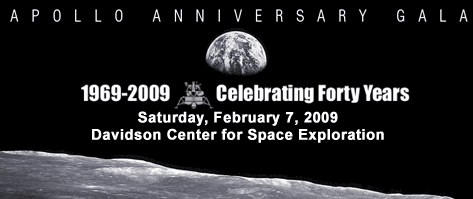 Couldn't justify spending $150 for a ticket to the Apollo Anniversary Gala? No worries! You can still see it live over the web!
From Al Whitaker, the Media Relations Director at the U.S. Space & Rocket Center, here's how it's going to go:
For those of you sitting in front of your computers Saturday night, surf over to www.spacecamp.com and look for the link for the live streaming webcast of the Year of Apollo Gala from the Space & Rocket Center.
They're putting us up around 5:30 or 6PM, and the program starts at 7PM. It will only last about 90 minutes or so, but you'll get to see one of the last of the Mercury astronauts, Scott Carpenter, along with Dick Gordon, Alan Bean, Owen Garriott, Joe Kerwin, Jack Lousma, Walt Cunningham and several others. Dr. George Mueller, who was the head of NASA's Office of Manned Space Flight during the Apollo program will be there.
We "found" THE original concept drawing of Skylab that Mueller sketched (it has been hanging in a man's den for about 40 years) and we'll unveil that, plus the Apollo 12 Mobile Quarantine Facility (which we also literally found in a field behind an abandoned fish hatchery in South Alabama), has been completely restored and will be unveiled. All in all, if there's even a little bit of a space geek in ya, you'll love it!
And from home, you'll have the best seat in the house!
Also, if you're in the area tomorrow, there will be a book signing at the Space & Rocket Center open to the general public. From Space Camp's Calender of Events:
All Proceeds from the sale of signed copies of Homesteading Space: The Skylab Story will be donated to the Skylab Restoration
Cost of book will be $80 and signed by authors David Hill, Astronaut Owen Garriot, and Astronaut Joe Kerwin as well as Homer Hickman and astronauts Alan Bean and Jack Lousma
Also featured will be The All-American Boys signed by Astronaut Walter Cunningham and Space signed by Roger Reid of Discovering Alabama
Art and collectibles signed by artist Paul Calle
Tomorrow's a big day at the Space & Rocket Center! And I really can't encourage you enough to spend the $80 if you can. The Skylab mock-up has been rotting outside of the Space & Rocket Center for some years now and the all-volunteer effort to restore it has met resistance at times (from the Space Center itself, oddly enough). Proceeds from the signing will no doubt go a long way to getting such a wonderful artifact restored and back to presentable condition.