After a year of hype, hoopla, pomp, and promotion, Star Wars: Where Science Meets Imagination has finally arrived at the U.S. Space & Rocket Center.
Thanks to one wonderful staffer at the Space & Rocket Center (you know who you are), I was able to go through the exhibit today during a special "Media Morning" event (hey, you're reading this, aren't you…fair play)!
Does the exhibit live up to the hype, or has the Space & Rocket Center sullied its name by bringing a commercial show to Huntsville?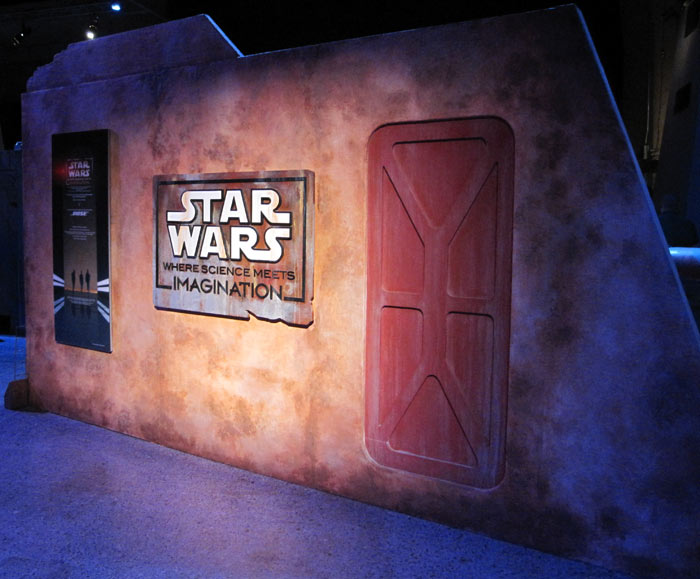 First, I must comment on the impressive assortment of costumes seen around the Space & Rocket Center. Storm Troopers abound, along with a Leia or two, a few Darth Vaders, and many other Rebel and Imperial forces were seen around the Space Center today! And all of the costumes were as impressive and detailed as what's behind the glass cases in the exhibit!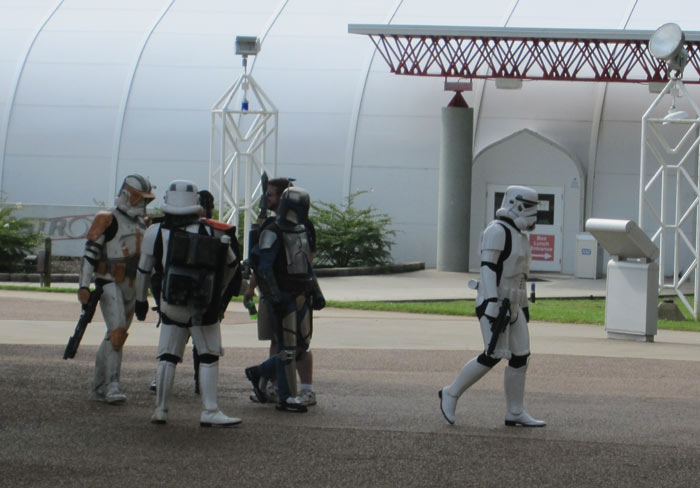 If there were any worries when the exhibit was announced a little over a year ago, it was that the Space Center might have gone for something a bit gimmicky and unrelated to the U.S. Space & Rocket Center's core mission of using our space-faring history to educate the public.
And this is a legitimate concern. Star Wars: Where Science Meets Imagination certainly comprised of bit more imagination than Science, but that's not to say it's not a perfectly legitimate attraction to bring to The Space & Rocket Center.
It's definitely about two parts imagination: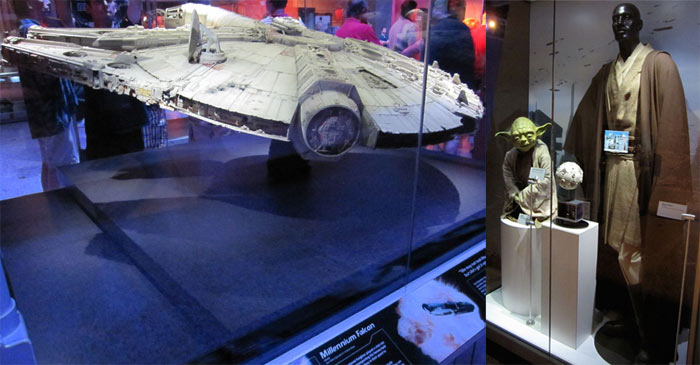 to one part Science: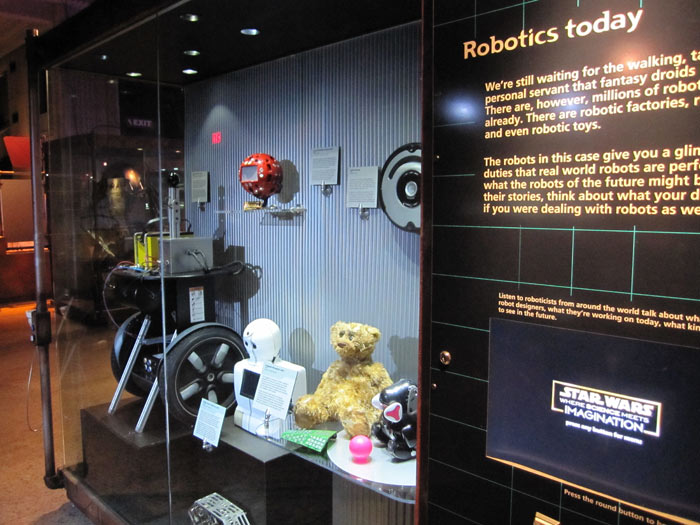 If nothing else, it's bound to bring even more visitors to the Space Center than the NASCAR IMAX movie could.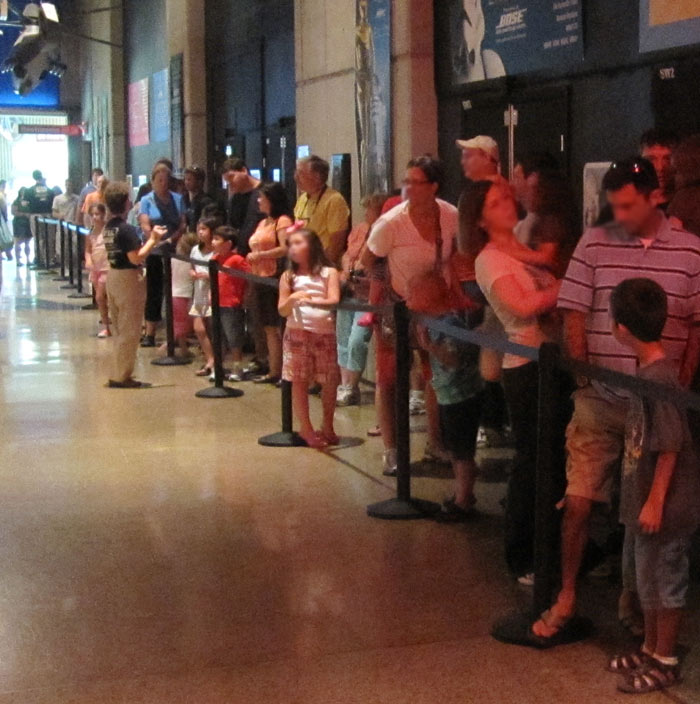 If the line at 9am this morning, the first Saturday of the exhibit, is any indication, the Star Wars exhibit will do exactly that. People will make the drive to the Center, pay $30.00 to see the exhibit, and for that fee, get to see what the rest of the museum has to offer as well. It's not a bad proposition.
And if you're thinking of attending with children, there's quite a few activities that will keep them busy, including this floating car lab where they can put together a car to levitate as well as move with magnets.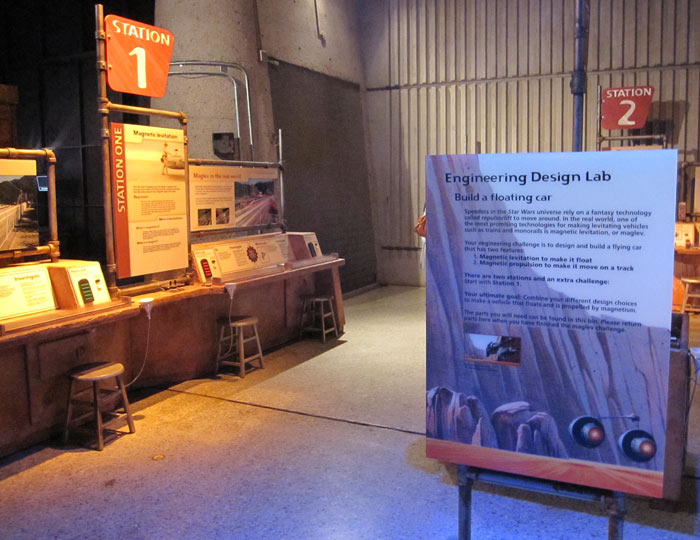 Another activity includes programming a robot: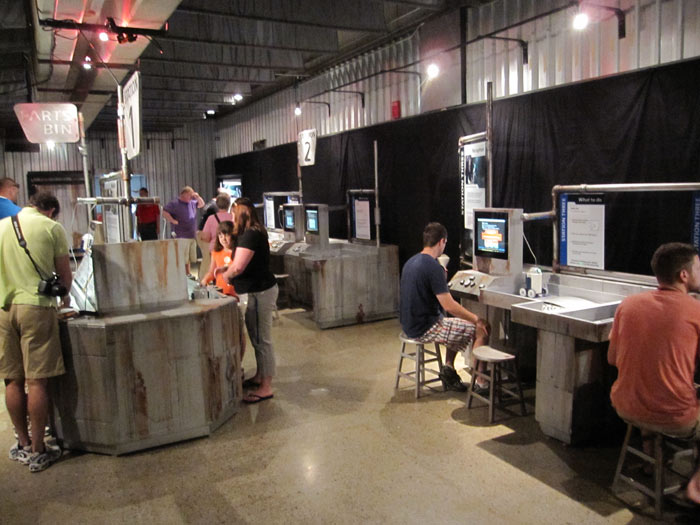 and other activities will keep your kids (or yourself) occupied for some time.
Ultimately the decision to bring this exhibit and future exhibits (A Chronicles of Narnia traveling exhibit is next, with a CSI exhibit to follow) to the "old" museum building is probably correct. After the Davidson Center opened, they just never put a whole lot of artifacts back into the old place to fill the void (I remember a certain SkyLab trainer that used to fit quite nicely in that room), so it's nice to see people filling the old museum once again.
And, ultimately, it's a really nice attraction to have at the U.S. Space & Rocket Center. A great deal of work went on at the Center to get things ready for the exhibit and it really shows.
If you're a Star Wars fan and haven't seen the exhibit one of its previous destinations, you should visit all of the costumes and props from some of your favorite movies (and not so favorite movies) at least once.
And if you have kids, there will be quite a bit to keep them busy and entertained.
But be prepared to leave with some Star Wars merchandise: