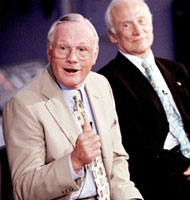 It has made the rounds that the annual Gala dinner, originally scheduled for February 18, has been cancelled.
Who cares?
Neil Armstrong is coming instead!
The original moonwalker, himself, will be at the U.S. Space & Rocket Center on February 3, 2011.
An email originally went out this morning (you are a member of the museum and on the email list, right):
Come join us as we honor Dr. Georg von Tiesenhausen with the Lifetime Achievement Award for Education and we welcome the U.S. Space & Rocket Center's new Executive Director and CEO, Dr. Deborah Barnhart.
Dr. von Tiesenhausen, one of the original German Rocket Members, has been teaching the Advanced Space Academy trainees for 23 years. He retired this past year at age 96! Neil Armstrong will be presenting this very special award to him.
New exhibits will also be opened, and old exhibits relaunched at the event.
Tickets in the email were priced at $250 before January 24, and $500 after, with 200 tickets available, but another email went out about an hour after the first stating:
We have just been informed that it is against Neil Armstrong's wishes for us to sell tickets to this event. Therefore, tickets are no longer available. We apologize for the misunderstanding and will send a follow up email with more information early next week.
If/When tickets to become available again, you can check back here.  But act fast.  Neil Armstrong is the J.D. Salinger of astronauts and tickets to see him in the Rocket City are sure to sell out fast!