Thursday evening's event at the Space & Rocket Center was a resounding success!  The evening went off without a hitch and all involved were witness to an event nearly as rare as a NASA budget increase:  Neil Armstrong in a public speaking engagement.
The evening started out with the freshly minted Chairman of the Alabama Space Science Exhibit, Todd Slyman, making his opening remarks.  After that, it was time to meet our new CEO, Dr. Deborah Barnhart so that she might bring in the two honored guests of the evening, Dr. Georg von Tiesenhausen and Neil Armstrong!
A note to anyone watching the video, after about 5:30, there's not much more to see. Dr. Barnhart announced Dr. Georg von Tiesenhausen and Neil Armstrong, but they took a very long time to show up and walk down the isle, so I don't have video of that. I must say, though, I thought it was especially funny that they had, literally, a wall of children between the audience and Neil Armstrong. Frankly I think we could have taken the kids, but the audience wasn't with me, so Neil and VonT were able to proceed smoothly to the dais.
Prior to dinner, three exhibits were unveiled and one more announced.  The first exhibit, and a new one at that, consists of the Apollo Courtyard Waterfalls, installed outside, greeting visitors as they make their way to the Space & Rocket Center lobby.
The waterfalls were donated by Ursula Mueller, wife of the late Dr. Fritz K. Mueller, in his honor.  She was invited onstage to say some words about her husband.  She seems like a very sweet lady who is immensely proud of her husband's accomplishments.
The Apollo 16 capsule, Casper (the friendly capsule), has been given a face lift with an all new lighted, shiny display.  The Tranquility Base Rendezvous provided a proper event for the ribbon cutting, with Robert Lightfoot, Director of the Marshall Space Flight Center, having some really good words for the occasion.  The Apollo 12 Moon rock is also part of the exhibit (so go see them).
The last exhibit to get a nod at the Tranquility Base Rendezvous was an announcement of an upcoming exhibit. Wayne Zeck of IBM announced their sponsorship of a new exhibit coming soon to the U.S. Space & Rocket Center.  "The Mind of Saturn" will be a display showcasing the Saturn V Instrument Ring (IU) already on display, along with a host of more information and displays.  That original IU only had a paltry 84KB of memory!  I'm sure the display will be shiny and I believe it's due to go on display this summer.
Finally, just before dinner, the newly inaugurated Governor of the State of Alabama, Dr. Robert Bentley, had some kind words to say about America's accomplishments in space as well as the U.S. Space & Rocket Center.
Dinner was good, as dinner often is at a U.S. Space & Rocket Center function.  The real highlight of the dinner though was twofold:  First was the very excellent performance by the Rocket City Jazz Orchestra (especially when the performed a great rendition of one of my favorites, Destination Moon).  The second was the party favor sitting in front of each chair at the table:  A space-themed Magic-8 Ball!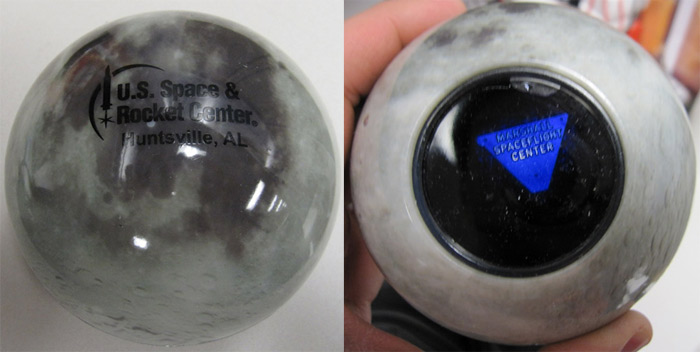 After dinner, it was finally time to see what everyone came to see: Dr. Georg von Tiesenhausen and Neil Armstrong!
I will let my rough video speak for itself, as both men were nothing but eloquent:
Finally, it was time for the wrap-up. Dr. Deborah Barnhart closed out the evening with help from Dynetics, as they premiered an introductory video for the Rocket City Space Pioneers and their bid to win the Google Lunar X PRIZE.
It was a night not soon forgotten in Huntsville, a night where the Eagle landed and the crowd cheered once again.