Alabama Gives Day!
In an effort to raise money for many worthy non-profits in the great state of Alabama, has declared today as "Alabama Gives Day."
If A Smile as Big as the Moon showed us anything, it's that there are plenty of worthy kids that can't make it to Space Camp without a little help. You can help!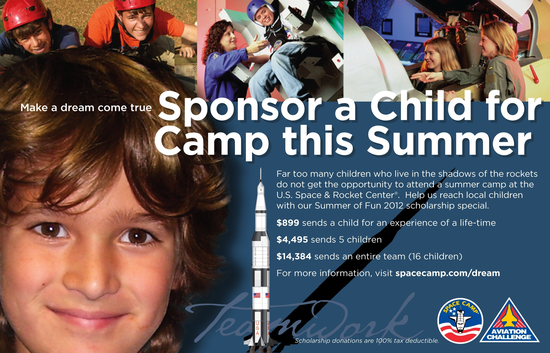 Of course, you can donate any time $10 at a time at the Space Camp Store's Scholarship Page. I would be remiss not to mention that the Space Camp Hall of Fame inductees have sponsored a scholarship as well, and that you could choose to donate to that fund, specifically, if you wanted.
And don't let the "$899 sends a child…" verbiage scare you. Every little bit helps. Even one dollar. It may be a cliché, but if every Space Camp alumnus just contributed one dollar…
Update: $1,200 dollars were donated via the Alabama Gives site, including one person that donated an entire tuition! Not too shabby!