Huntsville Times – Space Camp Extravaganza
on
June 3rd, 2012
at
8:16 pm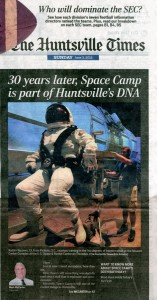 In advance of Space Camp's 30th Anniversary, The Huntsville Times has numerous articles and interviews regarding Space Camp.
Today's issue begins with and article bearing the front page heading, 30 years later, Space Camp is part of Huntsville's DNA.
Inside the paper, the "Business First" pullout section is entirely dedicated to Space Camp.
A very good showing, indeed!