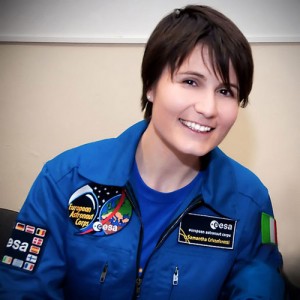 European Space Agency (ESA) Astronaut and Space Academy Level II alumnus Samantha Cristoforetti (@AstroSamantha) paid a visit to the U.S. Space & Rocket Center yesterday.  Samantha was on her way from Europe to the Johnson Space Center to continue training for her very first space shot, currently slated for the end of 2014!
Her first visit since attending Space Academy Level II in 1995, Ms. Cristoforetti was given a tour of Space Camp, treated to lunch, and greeted by Space Camp Hall of Fame inductees Penny Pettigrew, Vincent Vazzo, Dave Hnyda, and Dan Oates.
While at at the Space & Rocket Center, Samantha generously gave her time to speak to kids currently attending Space Camp as well as visiting museum patrons.
Sam's talk covered both training to go to the International Space Station as well as what it's like to live in space.  After her presentation, she was kind enough to stick around to field some excellent questions from the Space Campers.
The second of her two presentations that day was recorded and is available on YouTube.