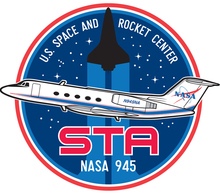 Though it had to be moved indoors from its planned Shuttle Park location, the press conference held today at Space Camp otherwise went off without a hitch.
U.S. Space & Rocket Center CEO Deborah Barnhart, Alabama Space Science Exhibit Commission Chair Col. Roosevelt Lewis (Ret.), Space Camp Alumni Advisory Board Chair John Ramsey, and Astronaut Col. Jim Halsell (Ret.) spoke today about the effort to bring the Shuttle Training Aircraft to the Space & Rocket Center, amongst other highlights at the Center.
Dr. Barnhart asked supporters, in honor of the Center's 44th birthday, to donate forty-four dollars to the STA Indiegogo campaign.  A new incentive was also issued today at the $44 level as well.
The event today was covered at al.com, WHNT 19, and WAFF 48.  All have different pieces of footage and interviews that are worth checking out.
The entirety of the press conference is also up on the Hab1 YouTube page in its entirety.
Robert Pearlman, editor of collectSPACE, wrote up a nice piece when the campaign started that's worth a look as well.  Space.com even picked it up, hopefully providing even more exposure!
As of this writing, 71 contributors have donated $22,000 towards the $70,000 goal.  It should be noted that, unlike many crowd-funding campaigns, this is not an all-or-nothing campaign.  Should the Space & Rocket Center fail to raise the $70,000 they're looking for, they will still have gotten off to a very nice start!
The campaign is only nearing the end of its second week though and has been making steady progress throughout that time.  The Rocket Center is on track to exceed the $70,000 goal if donations continue in at the current rate!