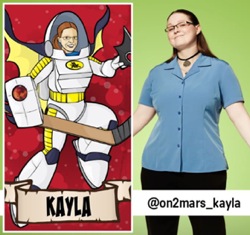 If you watched the conclusion of season two of the TBS show King of the Nerds this past March, you will have seen contestant Kayla LaFrance bestowed the title, "King of the Nerds!"
Kayla has many ties to Space Camp, being both an alumna and former counselor!  She's even a member of the HabForum!
Besides the title, she also took home the $100,000 prize money!  Not bad for spending six weeks in place called "Nerdvana!"
And you could be next!  They are currently looking to cast a third season, and TBS is very specifically looking to have another passionate space nerd on the show!
And I'm really happy to hear that!  While all nerdly pursuits are excellent in their own right,  space is one of those that has positive real world benefits for the good of all of us, helping turn another great nerdly pursuit–Science Fiction–into Science fact!
To that end, if you're passionate about space, are between the ages of 18 and 30, and would be available for up to six weeks beginning this July, drop a line to [email protected] with your name, phone number, and a brief summary about why you should be selected.  Be sure to place importance on all the good space-related activities you've been up to!  You can also check things out on twitter @KOTNcasting.