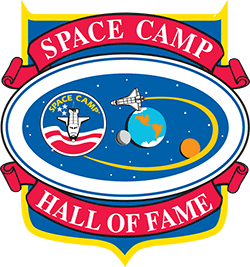 The 2019 Hall of Fame went off splendidly this past Saturday night, with three new inductees having been inducted in the Space Camp Hall of Fame!
Wally Funk, Casey Harris (of X Ambassadors fame), Virgin Galactic's Beth Moses, and Astronaut Christina Koch were welcomed into the ranks of the Hall of Fame by many Hall of Fame alumni.
Every year, the Hall of Fame raises money through an auction. Some years some spectacular items are only in the room, some years there's an online auction only, and others years both are done.
This year falls into the "everything is online" category. And the auctions are still open through Saturday, July 20!
You can head on over to the auction and register to bid on some very fine items, including a Meteorite Pendant that flew into space, and a brand new Omega Moon watch!