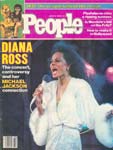 When Space Camp was just a little over one year old, People Magazine ran, in their August 8, 1983 edition, a small article on Space Camp!
I've posted it here for all to enjoy! Pictures of rocket launch and the 5DF chair, as well as the old "Zero 'G' Machine" are in the article as is a description of Space Camp from a camper's perspective.
I do hope you enjoy it!