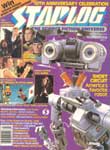 I've updated the HabFiles Section with another issue of Starlog Magazine. This issue is from July of 1986 and features not one but two Space Camp articles!
The first article is an account of a trip to Space Camp. It even has some (bad) photos of the old TCF!
The second article is about the movie, SpaceCamp. Enjoy!