Alumni Andi swung by the HabForum this evening with an urgent message, posted here in full: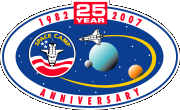 Loyal readers and alumni, the mothership is working on the details for the Space Camp Hall of Fame event. They want to host it at the Von Braun Center in downtown Huntsville. I call upon you to respond to the following questions in the form of a comment to the forum.
Would you travel to Huntsville for the SPACE CAMP Hall of Fame if it was held at another venue?

How much would you pay to attend this event if William "Captain Kirk" Shatner was the emcee?

Would to rather have a sit down, full service dinner or a buffet dinner?
Please reply with comments. This is very urgent, there is a 9 am CST meeting tomorrow that you can affect the outcome on.
Voice your opinion (quickly) here!