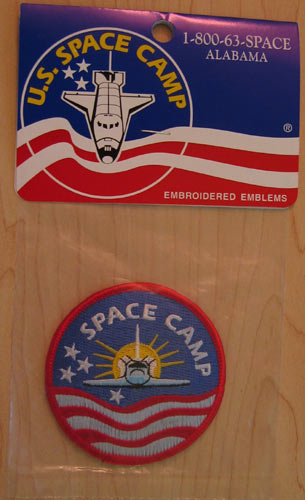 It's about time they did this, frankly. And yet, I'm surprised it had never even crossed my mind before.
They've reissued (though one could make the argument that they've just now issued) the SpaceCamp movie patch!
That's right! In honor of the 25th Anniversary, Space Camp is really going back to its past, producing copies of the patch from the movie SpaceCamp. This was the precursor to the patch we've all come to know and love over the years.
Space Camp has (thus far) produced only 500 copies of the movie patch. And it's currently not available for sale online, either. Therefore, the only way to get this patch is to 1) Purchase an original for large sums of money on ebay if/when you can find one for sale or 2) visit the Space & Rocket Center gift shop to buy one!
However, the nice guy that I am, I'm going to give option 3. Go make a post here (post anything) to enter, and one person will be randomly selected to get a SpaceCamp movie patch! You have until Saturday, April 7, 2007 at 11:59pm EDT to be eligible.