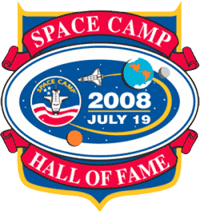 We're just north of a week now since the 2nd annual Space Camp Hall of Fame happened. Whew! Time moves fast!
Before we get too far away from that momentous evening, I want to make sure I cover a few things:
First, thanks again to everyone at the Space & Rocket Center that did such a wonderful job putting on a fantastic show. I some of you worked on almost nothing else for months straight and it showed. My family, who would have been quick to criticize, thought it was an absolutely first-class operation and they had a great time!
I want to thank Al Whitaker and his media guys as the introduction videos they put together were very well done. The scripts were well written and the materials well utilized. I was very impressed with all of them.
Holley Gautney was my primary point of contact for all Hall-of-Fame related questions, comments, and issues. She was always prompt with responses and very helpful. Thanks for all of the help!
My fellow inductees…you're all class acts and I'm truly proud to have been part of that evening with you all.
Again, I think it was great that they broadcast it on the internet. But given the short notice with which they did it, a lot of people probably didn't get to see it that otherwise would have loved to have watched!
Given that, I hope the whole think will be made available shortly. Even more importantly, since not everyone will want to sit and watch the while thing from start to finish, I hope that Space Camp cuts it up and puts all of the clips on their YouTube page for quick and easy browsing.
Like I said above, the introduction videos were all so well done, and everyone gave great speeches (well, the others did, anyway). But I can't say I remember a great deal of them at this point. Between the lack of sleep that weekend and the general anxiety of the evening, I really only remember bits and pieces. I don't even remember what I said (though that might be a good thing)! It would be nice to be able to pull the clips up.
…From last year too.