Robert "Hoot" Gibson, great friend to Space Camp, is featured in the April/May issue of the always-wonderful Smithsonian Air & Space Magazine!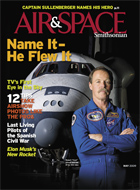 The highlight of the article is best summed up in the title of the article: "The Man Who's Flown Everything."
It's a really nice article and gives some very nice insight into flying the space shuttle:
"The shuttle doesn't fly like anything else," said Gibson. "The control surfaces are huge. When you move them, you reduce your wing area, so, at first, pulling up makes you sink. Pushing over makes you sink faster. Pulsing the stick gets you into serious trouble. Below a certain altitude, every input you make is going to be wrong."
An extra on the web makes mention of the multitude of aircraft this man has flown. As a matter of fact, Hoot's flown so many different aircraft, that Hoot himself missed a few while originally discussing his experiences!
And so you can visit "The Hoot List" to see a listing of every aircraft Hoot Gibson has flown. All 108 111 of them!
Congratulations, Hoot, for making the cover of Smithsonian Air & Space Magazine!