Planning for the 3rd Annual Space Camp Hall of Fame Ceremony is currently underway and it looks like it's finally going to be what I always hoped for. Namely, a fun, relatively casual affair with good food, good music, and good Space Camp company, with little concern for superficial formalities. Don't get me wrong. I thought the previous two Hall of Fame events were both wonderfully done! I've always just felt that they were inappropriately formal and out of character for Space Camp.
As the month of March draws to a close, two issues are most pressing.
One, nominations are due for the Hall of Fame by the end of this month! So if you have a worthy soul in mind, be sure to get the nomination in for him or her soon!
Go here for nomination details and links to the nomination forms.
The second pressing issue is to find a Master of Ceremonies for the event.
I've been hearing rumors with some great names tossed about, and I'm sure whoever gets chosen will do a great job, but I just heard one potential host was dismissed out of hand and I wanted to comment.
There was an idea kicking around to invite Stephen Colbert of the Colbert Report to come emcee the event.
If you keep up with the show, you'll know that Stephen Colbert has been lobbying his audience to try to get NASA to name Node 3 of the International Space Station after him (the website to vote on the name has been here, though voting has just closed). You can see his initial pitch from March 3rd, 2009: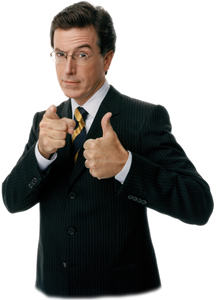 Colbert was able to get to the top of the voting list! That's an impressive feat, given the number of people that would have to have watched the show, gone to the Colbert Report's website to find the NASA link, and voted. And he moved to the top of the list overnight! That's an impressive amount of clout for one late night host on basic cable.
But he didn't rest on his laurels, as can be seen in more lobbying videos (all of them and then some can be found at that link).
Even if Stephen Colbert isn't their first choice, he shouldn't be dismissed out of hand should choice #1 or choice #2 etc. turn down the gig. He should certainly be considered.
The amount of free publicity that could potentially rain down upon Space Camp at even a mention on an episode of the Colbert Report could in both the best and worst cases be crushingly overwhelming. It might be worth just naming something at Space Camp after him, cheap as that might seem:
If you don't want it to seem blatant, take a cue from NASA and solicit naming suggestions online in a vote and leak it to the Colbert Report!
Now, let us proceed with caution as I attempt to offer conjecture as to why permission was not granted to even ask Stephen Colbert to host, and try to educate as to why those reasons–if truly what was being thought–are short-sighted and/or wrong.
Stephen Colbert makes his living basically impersonating Bill O'Reilly while at the same time being funny. Therefore, his show often gives to appearing to attack and mock everything. I think the decision was made not to ask Colbert based upon the irrational fear that he would make Space Camp look foolish or stupid. I think this shows a severe lack of faith and understanding in both Mr. Colbert as well as (and this part is the real shame) Space Camp itself.
First, with regard to Space Camp. Space Camp has been a great source of hope, joy, and inspiration to thousands over its illustrious history. You can't mock something like that. You can make jokes about, "Let's pretend I'm an astronaut," or of antics that go on at Space Camp, perhaps, but you can't mock Space Camp itself. You can't mock an institution built upon inspiring young minds and educating the public about science and space. You can't mock something that, after seeing it, gives you hope when you look into the future. Even Penn & Teller couldn't do it and their show is called Bulls*#@!
Next, Stephen Colbert is, I believe, a truly decent man, first and foremost. Also, as an aside, he's the father of three young children. If anything, he should already be a customer!
But if the only accurate judge of a person is not his words (which I'm willing to bet that more than a few of Space Camp's management can't get past) but rather his actions, than Colbert has used is celebrity better than most.
All of his profits from his Ben & Jerry's ice cream flavor go to benefiting children, veterans, and the environment. He has raised tens of thousands of dollars for The Yellow Ribbon Fund through the sale of "Wrist Strong" bracelets, which he has also promoted on the air. The Yellow Ribbon Fund, Retired Army Brig. General and USSRC CEO Larry Capps might be interested to know, is an organization dedicated to assist injured members of the armed services when they come back from war. And these are just the examples I knew of off the top of my head (and, though I usually find it funny, I rarely watch the Colbert Report)! A quick search on the internet also revealed that his Christmas Special DVD sales are for charity, and that he'll soon be heading out of the country to entertain the troops.
He seems like a good man to me; a worthy choice as emcee for the Space Camp Hall of Fame. Granted, maybe not the first choice, as there are far more appropriate candidates. But if you can't get any of those, I think there are far worse choices to make.
The fears are unfounded and the upside to Space Camp is too great to not at least reconsider.
Or at least (or better still) name something after him (video of him on the "Stephen Colbert Multi-Axis Trainer," perhaps. One two minute segment on the show will pay your bills for a few years, I'm confident).