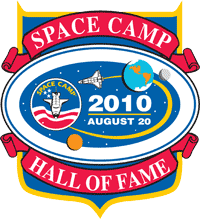 As the August 20, 2010 date for the 2010 Space Camp Hall of Fame Induction Ceremony continues to close in, it's worth mentioning that nominations are currently being solicited.
The nominations are due in by May 6, 2010 so as to give Space Camp enough time to sort though all of the excellent candidates and choose those that will make it into the fourth class of Space Camp Hall of Fame inductees.
So if you know someone worthy of consideration, and they meet one of the three categories, be sure to get a nomination form in for them!