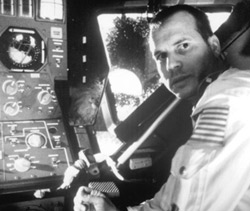 Fred Haise will visit the Space & Rocket Center next Friday, March 18, 2011.
USSRC members received notification today:
Join us on Friday, March 18, 2011, at the Davidson Center for Space Exploration as the U.S. Space and Rocket Center's Passing the Torch Lecture Series presents Fred Haise, Apollo 13 astronaut.
Doors open at 6:00pm. 7:00pm presentation of Overcoming Challenges followed by excerpts from the Apollo 13 movie with commentary by Fred Haise. Refreshments will be available for purchase.
Advance tickets are available to members only at a discounted price of $20 each until Friday March 11th, 2011, at 5:00pm. Tickets will then be available to the public at $25. Please go to http://www.spacecamp.com/store/haise to purchase your tickets. Your email confirmation will serve as your ticket, and we will have a Will Call list at the door. If you have questions please contact Member Services at 256-721-7155.
There you have it. Come on down to the Davidson Center for a nice, casual Friday evening with Fred Haise!