Remember way back when, back when the Training Center Floor used to look like this: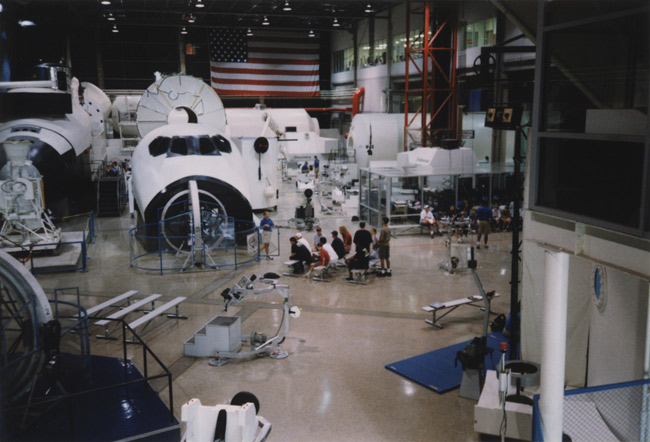 The training center was nice and open and, perhaps most importantly, it was easily viewable by museum visitors as they walked between the museum and Shuttle Park.
How many kids do you think went to Camp over the years because their parents foolishly let them gaze upon the wondrous things that would await them if only they could convince their parents to send them to Space Camp?
Fortunately, Space Camp put a stop to that when they erected the dark glass between the TCF and the walkway and moved all of the non-shuttle simulators out of the TCF and into the Astrotrek building, place large objects that would obscure the view where dark glass would prove impractical.
The Training Center Floor MCC and assorted simulators won't be getting more easily photographable anytime soon, but parts of Space Camp will be available to what is perhaps the next best thing: tours!
On their Facebook page today, the USSRC announced they would have a "Space Camp Behind the Scenes" tour.  From the looks of the posted photo, several tours will be offered per day and visitors to the Center can go get a glimpse at what Space Camp is all about.
Unfortunately, the MCC won't be a stop on the tour as there's not enough room for campers and tour groups they don't want to interrupt ongoing missions, but other areas previously inaccessible to the public will be on the tour.
If a tour is scheduled for a time when the UAT is not in use, I would really recommend taking people up there to see the TCF MCC.  It would provide a great view and you can discuss the shuttle missions (and upcoming Mars/Lunar missions) from there.
It's not a perfect solution, but it's a welcome addition that should benefit Space Camp's enrollment numbers as time goes on.