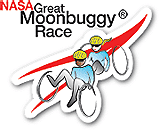 Tomorrow starts day one of the 2011 Great Moonbuggy Race!
Once again, the U.S. Space & Rocket Center will be host to teams of high school and college students from all around the country and the world!
If you're in the area, I highly recommend coming out the Space & Rocket Center to see the amazing designs the young engineers put together, along with all of the incredible thrills and the occasional spills! You won't regret it!
But if you can't make it down to the Space Center, they'll be broadcasting again this year! From the comfort of your own home, you can enjoy said thrills and spills!
The live broadcast will appear at on this page.
Or you can view it right here:
And be sure to check out the Great Moonbuggy Race Blog. The most recent post highlights a member of the German contingent and how she's spent her time in Alabama thus far. And there are other great posts as well, all in the lead-up to race day!
Best of luck to all of the students involved in this year's Great Moonbuggy Race!