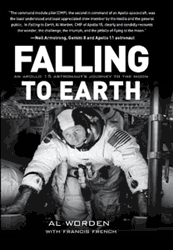 Francis French, Space Camp Hall of Fame inductee and author of the books Into that Silent See and In the Shadow of the Moon, has a new one coming out!
Having no doubt been impressed with his previous works, Apollo astronaut Al Worden got Francis to help him out with his memoir, Falling to Earth, which was launched today.
To celebrate the release, as well as the 40th anniversary of Al's Apollo 15 launch, The Smithsonian Air & Space Museum is hosting a book signing and talk.
If you're going to be in Washington D.C. on Friday, stop by and say hello to Francis and Al!
The event itself is free.
The book talk with Al Worden will start at 11:00AM EDT.  If you're not able to attend in person, the talk itself will be broadcast over the internet.
Visit the Event Page to access the webcast on Friday or any time before Friday to get the full schedule of events.
And if you like the book, you can head on over to its Facebook page and "Like" the book!