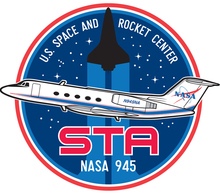 Space Camp has launched a new crowd-funding initiative!
Hosted on indiegogo, Space Camp is attempting to secure funds to bring NASA's Shuttle Training Aircraft, a modified Gulfstream II airplane, to the U.S. Space & Rocket Center.
The USSRC has set a funding goal of $70,000, and they're offering various incentives depending on the amount you donate.  One of the higher perks involves VIP access during the Space Camp Hall of Fame weekend in August, and even lifetime membership to the U.S. Space & Rocket Center can be yours!  But even one dollar helps get a vital training apparatus from the Space Shuttle Program to a worthy retirement home.
Head on over to the indiegogo page and have a look!