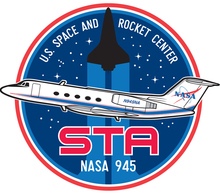 The U.S. Space & Rocket Center is now halfway through their Indiegogo campaign.
Thirty days in, $28,046 has been raised thus far!
The bad news is, this is slightly off pace to meet the $70,000 goal.  The good news is, there's still an entire month left!
If you have yet to donate, every little bit helps!
Even the $15 keychain level gets us $15 closer!  If just half-of-a-percent of Space Camp alumni went and made a $15 donation, we would have this in the bag!
With a month left to go, please go donate!
In fact, if you donate $15 or more, I will cover $5 of that!  Head on over to the Indiegogo campaign, make your pledge, and shoot me an email with your name and donation amount (so I can verify on the campaign page), and your preferred method for reimbursement (check, Paypal, Square Cash, Dwolla, etc.) and I'll get you $5!
At $10 for the keychain, that's really not much more than you would pay for such a thing in the gift shop.  This way, you get to be part of Space Camp's first ever crowdfunding campaign as well, and help them get the Shuttle Training Aircraft on display!