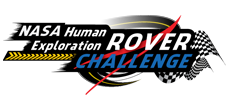 The 21st annual Great Moonbuggy Race has been rechristened this year as the first annual Human Exploration Rover Challenge.
This event, jointly held by the U.S. Space & Rocket Center and NASA's Marshall Space Flight Center has seen several important new changes for this year.
While the moonbuggies previously had to fold up to fit within a 4'x4'x4′ cube, this year has seen the box extended by an extra foot in all directions, to five cubic feet.
An even larger change comes from a ban on inflatable tires.
If you can't make it out to the Space Center, be sure to check in on the race on MSFC's UStream channel, and/or follow their twitter feed.