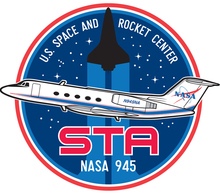 The end is so close, in more ways than one.
There are only 3 days left to make a contribution to help land a Shuttle Training Aircraft at the Space & Rocket Center.
The total collected thus far stands at $57,848, a mere $12,152 away from the goal!  We're almost there, and every little bit helps!
Recently, an exciting new perk was added.
For a $10,000 donation, you can fly with The Man Who's Flown Everything, Robert "Hoot" Gibson!  That one donation alone, if you have the means, would get the Space Center very nearly to their goal, and provide you the donor with a tremendously exciting, once-in-a-lifetime opportunity!
AL.com covered the addition of this new perk as well, and the National Business Aviation Association recently featured a story on efforts to raise the funds.
At the $300 perk level, more astronauts have signed on to sign on!  In addition to the previously mentioned trio of Hoot Gibson, Steven Nagel, and Jim Halsell, L. Blaine Hammond and Owen Garriott will be signing the posters as well!
Three days left!  Please consider donating if you haven't yet and are able to!