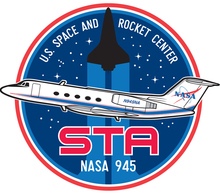 With 12 days left, the Space & Rocket Center's first crowd funding campaign has surpassed the halfway point, currently standing at $35,851.  The final days shall no doubt be fast and furious, and there's still time for you to get in on the action!
Take me up on the $5 of the $15 offer.  As of now, an anonymous donor is matching funds, so your $10 ($15 for the keychain, $5 back from me) can turn into $30 for the Space Center!
You're of course welcome to donate more, and three new incentive levels have been created:
First, for $75, you can get the STA patch by itself.  While the $250 level previously got you the STA patch and everything from the levels below it, this will get you the patch only.
Second, for $150, you can get the "STA Perk Combo," netting you your choice of two of the following: STA Keychain, bumper sticker, poster, T-Shirt, or mission patch.
Finally, $300 will get upgrade your STA poster with autographs from various astronauts.  Astronauts Hoot Gibson, Steven Nagel, and Jim Halsell have currently all committed to signing, and more could be added before all is said and done!  Unlike the other two new levels, this $300 level will still get you all incentives less than $300 (but only one STA poster).
And if you're going to be in the Washington D.C. area on April 24, you should get out to the Space Camp meet-up!  And bring a friend or two!  It will be a grand ol' time!  Check out the Facebook Event for all of the details!