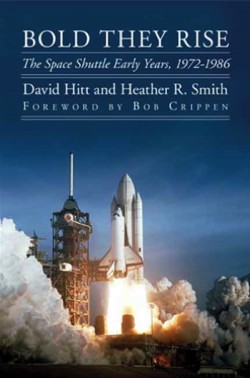 There's a new book just out about the development of the Space Transportation System and the very early years of the Space Shuttle Program.
The book, Bold They Rise, is the culmination of years of research from authors David Hitt and Heather R. Smith.
The book itself is part of the "Outward Odyssey" series of space books from book publisher, University of Nebraska Press.  A previous installment to the series, Homesteading Space, detailing the development of the Skylab program and its missions, was also written David Hitt, along with Skylab Astronauts Owen Garriott and Joe Kerwin.
To celebrate the launch of their new book, David and Heather were joined this past weekend at the U.S. Space & Rocket Center by husband and wife Astronaut-duo Dr. Rhea Seddon and Robert "Hoot" Gibson to discuss the contents of the book as well as the pair's time in the Astronaut Corps.
Afterwards, a book singing was held for those in attendance.
The book itself is available from Amazon, amongst other places.  And if you swing by the Space Center to pick one up, you might just find one of the several extra copies the four signed after the presentation.
The entire presentation, including a Q&A session at the end, is available over on the Hab1 YouTube page.
Don't forget to pick up a copy of Bold They Rise, if you are so inclined!