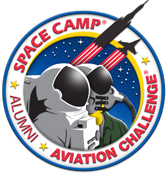 Last month, the U.S. Space & Rocket Center successfully raised $71,340 to bring the Shuttle Training Aircraft to the U.S. Space & Rocket Center.  It was a campaign spearheaded by both the Space Center as well as the newly formed Space Camp Alumni Association and its corresponding Alumni Advisory Board.
In the time since, the group has been actively reaching out to Space Camp and Aviation Challenge alumni through their Twitter Feed and Facebook Group, as well as in person at graduations and other events.
Today they reach further with a new website, SpaceCampAlumni.com.
The site offers a very nice overview as to the mission of the organization and its board members.
Most important of all, the site offers a means to help alumni become more active in spreading the wonders of what a Space Camp experience can mean to an individual.  If you're interested, look to the "Get Involved" section on the site for information on how you can help!
If you simply just wish to stay up-to-date with the goings on of both Space Camp and the Alumni Advisory Board, it's a simple matter of providing your name and email address, which I wholeheartedly recommend you do!