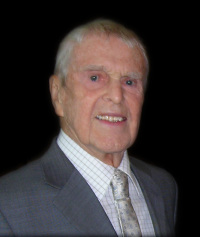 Oscar Holderer, member of Wernher von Braun's team, died today, May 5, 2015.  He was 95 years old.
Oscar was a great friend to Space Camp over the years, for it was he who designed many of the simulators in use at Space Camp, including the 1/6 Chair, 5DF, and Multi-Axis Trainer.
In 2008, Oscar was honored for his contribution with his induction into the Space Camp Hall of Fame.
Visitation and remembrances will take place from 2 to 4pm on Friday, May 8, 2015 at the Spry Funeral Home in Huntsville, AL.
View Oscar's Space Camp Hall of Fame induction videos: