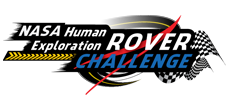 The annual NASA Human Exploration Rover Challenge Tomorrow and Saturday (formally The Great Moonbuggy Race) begins tomorrow and runs through Saturday at the U.S. Space & Rocket Center!
The race begins at 7am both days! Come early! It's a pretty exciting thing to check out!
Students from around the world make rovers and compete on a course around the Space Center! Amongst the many engineering challenges, the students' rovers can't use air pressure in their tires and the entire vehicle must fold up and fit withing a small amount of space (3 cubic feet, I think)!
If you can't make it out, Marshall Space Flight Center will be streaming video live both days on their Ustream Channel!  The event will be live-tweeted as well @RoverChallenge.