Two weeks ago, Alabama Governor Kay Ivey was on hand at Tthe Space & Rocket Center to announce a staggering $10 million grant to Space Camp to provide the initial funding for a new cyber security camp!  The money will presumably be used to fund new facilities to help facilitate this camp as well as the existing Space Camp, Space Academy, and Robotics programs.
You can view the announcement on Facebook Live at: https://www.facebook.com/RocketCenterUSA/videos/10155303783711971/ 
State Representative tweeted out the following photo: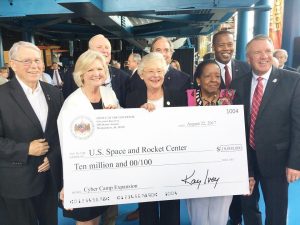 Feel free to discuss this exciting news in the HabForum!