Prior to this year, every year of the Space Camp Hall of Fame seemed to go off better than the previous.
This year proved itself to be no exception to that rule!
The 2010 Space Camp Hall of Fame Induction Ceremony was a fantastic event. If you missed it, you missed out! It was probably the single greatest party Space Camp has ever thrown!
To all of those that worked so hard this year to make the night the success that it was, congratulations are certainly due. The hard work payed off and a fantastic time was had by all!
This of course makes the task of trying to top this year all the more difficult. But use the after-event glow you all should certainly be basking in as a motivator to put together another fantastic evening next year for the 2011 class of inductees.
In the meantime, if you weren't able to attend, please enjoy a recount of the evening. It probably won't do the evening justice, but it will be better than nothing.
After a few opening remarks by Space & Rocket Center CEO Larry Capps, the audience was treated to a wonderfully produced, though quite emotional "Space Shuttle Tribute" video, put together by, and shown with the permission of, Space City Films, Inc.
As Larry Capps pointed out, by the time the 2011 Space Camp Hall of Fame Induction Ceremony comes around, the Space Shuttle Program will likely be a program of the past.
Dinner service was held immediately after and I must give my complements to the chef, especially with the dessert, because it was out of this world!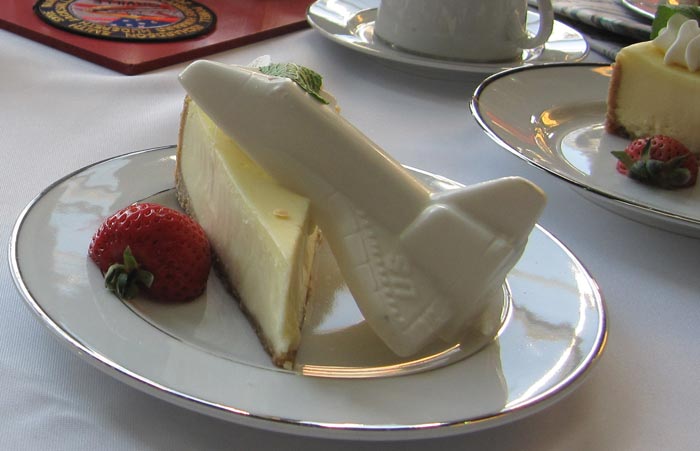 After dinner was finished, The Weather Channel's Stephanie Abrams was introduced as the Master of Ceremony for the event. Her job as MC is to be commended, but her real duty was done that morning. Thanks to her wonderful segments that were broadcast on The Weather Channel that morning, who knows how many people learned about the existence of such a wonderful place as this!
Stephanie introduced the three speakers for the evening. Former Astronaut Don Thomas went first and NASA Deputy Administrator Lori Garver did an admirable job speaking last. But the speaker in the middle, Dottie Metcalf-Lindenburger was the real sweetheart of the evening. Hot on the heels of her space shot, Dottie returned to Space Camp for the first time since her 2007 induction into the Space Camp Hall of Fame to share just how she got from here to there, along with the unique experiences that go along with space travel.
After these speeches, it was time for the true honorees of the evening. In the past, Space Camp has posted the wondeful introduction videos they put together for each inductee. Those have yet to show up on YouTube. Hopefully they'll show up soon! I do have the speeches recorded though!
First up, was Francis French. And here I must apologize. I only recorded half of his speech. It was a great half though:
Next up was, of all people, my Advanced Space Academy counselor from 1999 (true story), Dave Hnyda!
After "Space Camp Dave," Dr. Andrea M. Hanson, Ph.D., who has to be the absolute perkiest woman I've ever had the pleasure of meeting, gave an absolutely buoyant speech:
Finally, Danny Jacques received recognition for his tireless works to bring kids to Space Camp:
After Danny's emotional speech, the ceremony concluded, but the night was just getting started. Max-Q was finally at Space Camp!
Astronauts Ken Cockrell, Chris Ferguson, Chris Hadfield, Drew Feustel, and Dottie Metcalf-Lindenburger took the stage and played their hearts out, with Hoot Gibson joining in for some songs as well!
Having graduated Space Camp many times to the some of the music of Max-Q, the opportunity was finally at hand to see them live!
Max-Q arrived with a very long set list, and they didn't stop until they got through it all.
All-an-all, it was truly a great evening for the inductees and attendees alike!
Thank you, Space Camp, for yet another memorable day!