It has been an interesting day today.
This morning, there was an article on al.com revealing that when it was announced in August that U.S. Space & Rocket Center CEO Larry Capps would be retiring, that wasn't quite true:
When the meeting was over, then-chair Dorothy Davidson and Capps met with a reporter. Capps announced he was resigning, and Davidson said, "We just spent two-and-a-half hours trying to convince him not to."
Not really, said then-commission secretary Daniel Wilson, in an Aug. 16 e-mail to Davidson. "As you know, that was not what happened in the meeting," Wilson wrote.
This afternoon, the Alabama Space Science Exhibit Commission, the board of directors that oversees the USSRC, convened to discuss the situation.
As it turns out, the board voted to fire Larry Capps in August, but this vote was quickly rescinded, giving Larry the chance to retire. An agreement was somehow struck for him to stay on while the search for a new CEO was on.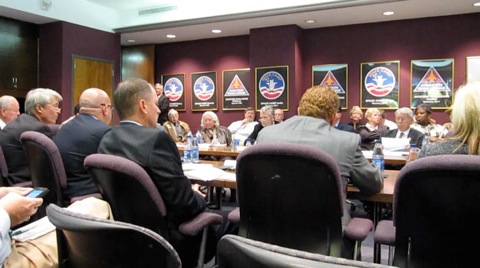 Tonight's meeting opened with a current state of finances at USSRC.  In short (and I think I have this right), thanks mostly to some licensing revenue coming in for Space Camp India, the financial situation isn't horrible, but the USSRC has just about maxed out their line of credit.   A fee due from the Space Camp India is expected to pay down a great deal of the money owed on the line of credit, but…well, I'm not a finance guy.
After that, a motion was brought forth to set Larry's retirement date at February 28, 2011, at which point he will formally retire from the USSRC.  The hope here is that a new CEO can be found soon (my vote is for Hoot Gibson) and brought on with Larry still around to ensure a smooth transition.
Then the board proceeded to go back and forth with each other over the situation for the better part of two hours while they argued the finer points of who would be CEO if there were two CEOs, would Larry be entitled to enact a "No Fault Termination" clause that would entitle him to one year of pay after February 28, etc.  At one point, they tried to go into an "Executive Session" so that the public would not be able to witness the proceedings (it was becoming very clear that there isn't a great deal of peace and harmony amongst board members), so some time went by while they figured out if they legally could…it was decided that they probably couldn't, and eventually the motion was carried with an amendment that they clarify that, when a new CEO is hired, Larry will officially be in the role of a consultant until February 28, 2011 at which point he will retire.
The session broke while the lawyers wrote up the paper work.
Never a dull moment at Space Camp!