Space Camp recently began offering "Behind the Scenes" tours for visitors to the U.S. Space & Rocket Center.
Naturally, I recently went over to the Space Center and took the tour!
My tour left promptly at 2pm and had nearly 20 people in it.  Though there seemed to be only three or four separate groups of people, the overall number was still quite impressive.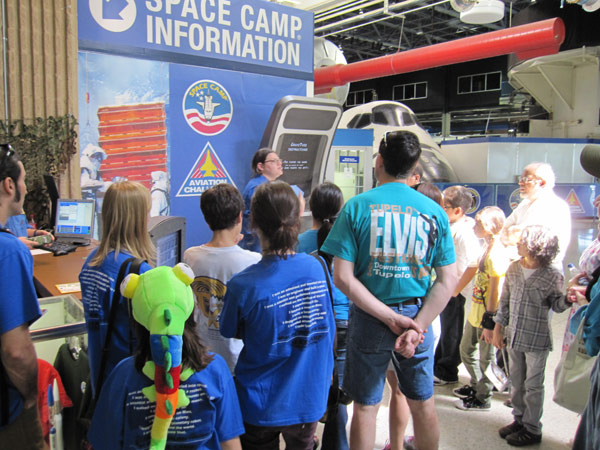 The first stop was in front of Intrepid Endeavour.  Our tour guide, Rachel, talked about the missions kids go on and the different positions and locations available and such.
After an intro to Space Camp missions, we were promptly taken to the top of the UAT to see the diving opportunities available to Advanced Space Academy trainees as well as get a bird's-eye view of the Mission Center Complex.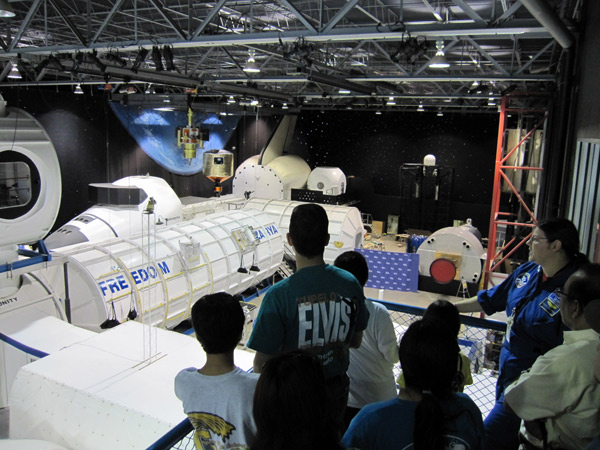 Three elevator rides later, we were all on the edge of the MCC, taking a gander at the newly-arrived simulators.  It was my first time seeing them and I was elated to hear that they will be in use this Summer!
After the tour of the MCC was complete, we all went–to my great surprise–down to Hab1.  Everyone was able to see where the kids stay, and they had a demo room available for viewing.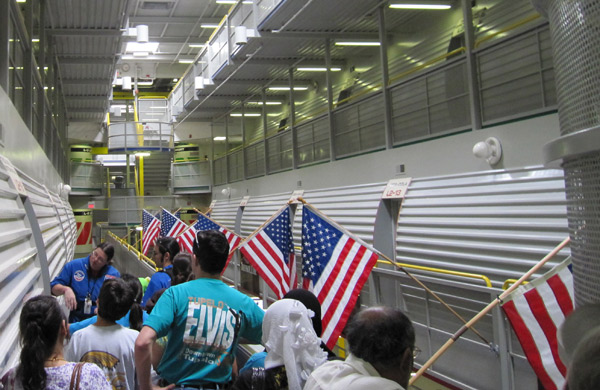 The last stop on the tour was the AstroTrek building so overviews of the Multi-Axis Trainer, 5DF Chair, and MMU could be given.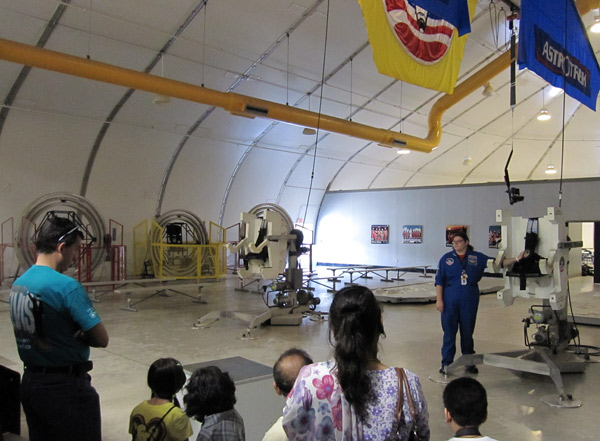 Finally, it was back to the Space Camp Info Desk for a surprise:  Space Ice Cream!  Everyone that went on the tour got a package of ice cream.  I was quite famished and it was a very welcomed treat!
Overall, the tour for Space Camp is very straightforward, and extremely thorough.  Far more so than I would have guessed.  Tour takers received a very good idea of what goes on at Space Camp.  At about thirty minutes, the tour isn't as fast as a glance at  a diverse training area, but it is far more detailed.
The only critiques I would make–and they are pretty minor–are as follows:
If handing out space ice cream is going to be a permanent fixture, instead of just handing it out, sell it as a little part of the Space Camp experience for all of those on the tour.  It might make for a good opportunity to talk about the briefings given like Crew Systems and how the kids learn about living and working in space.  Also, if it's only a temporary give-away, this could be kept on in the future at a reduced cost by opening only a bag or two and giving people samples.  It could even stimulate sales in the gift shop!
Rachel did a great job of talking about Space Camp and taking everyone around, let me be clear about that.  But, ideally, people should be laughing to themselves at the energy level and enthusiasm displayed by the tour giver.  The perkiness/excitement factor should be turned up to 11!  There was nothing wrong with the presentation as I saw it, but I think that little extra would leave people with a more lasting positive impression about Space Camp.
If you would like to get a tour when visiting the Space Center, simply make your way to the Space Camp Information Desk in front of the MCC, and you can reserve a spot.  Standard tour times are 11:00am and 2:00pm daily, but additional times can be added if they prove especially popular on a given day.