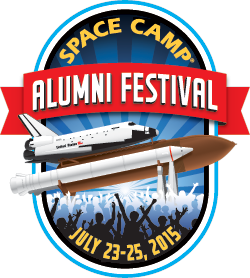 The Space Camp Hall of Fame, since its inception in 2007, has always made for one very fine evening, celebrating all that is great about Space Camp!
So what could be even better?  How about an entire weekend of alumni activities?
This year, the Space Camp Hall of Fame will be one big component in an even bigger weekend!
And it's astronaut-palooza, to boot!
No fewer than seven astronauts are scheduled to be on hand, include Space Camp Hall of Fame inductees Robert "Hoot" Gibson and Dottie Metcalf-Lindenburger!
The full schedule of events, along with ticketing information, can be found on the Alumni Festival page, but the highlights are as follows:
July 25
Events kick off on Thursday night with the weekly Biergarten event.  Eat some schnitzel, drink some beer, and be merry!
July 26
Volunteers have been busily working on restoring the F-14 down at Aviation Challenge and Friday afternoon will hold its rededication.  F-14 Top Gun pilots, Scott "Scooter" Altman and Robert "Hoot" Gibson will be on hand!
The rest of the day can be spent in the water at AC, or testing your mettle on Aviation Challenge simulators.  Later in the evening hang out with other alumni by the pool at the Marriott.
July 27
The morning starts off with an alumni breakfast, followed by time in Space Camp simulators.
At 4pm, Astronaut Dr. Rhea Seddon will discuss her time at NASA and her new book, Go for Orbit.  Afterwords, she'll be available to sign copies.
Immediately after, the Space Camp Hall of Fame will welcome its class of 2015, with a concert in Shuttle Park immediately following the proceedings!
This is shaping up to be the largest alumni event ever!  If you've been repeatedly putting off plans to visit Space Camp, your time has come.  This is surely the weekend to come back home!
But if you can't make it (what?!), fear not!  You can still participate, at least a little.  In addition to the charity auction at the Hall of Fame, this year will see items up on eBay for anyone to bid on!  Look for more information as Alumni Weekend draws closer!