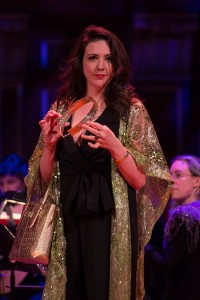 Regrettably, Susanna Phillips will not be able to attend the Space Camp Hall of Fame Induction Ceremony in person on July 25th.
She has a gig.
If you happen to be in Santa Fe that evening, or on the evening of July 29th, you should definitely check her out at the Santa Fe Opera House as she performs in La Finta Giardiniera.
If you happen to be near New York City this Thursday, June 18th, you should head over to The Juilliard School, Susanna's alma mater, at 4 pm EDT and help U.S. Space & Rocket Center CEO Deborah Barnhart welcome Susanna formally into the Space Camp Hall of Fame.
Video will be recorded and played back on the evening of the Hall of Fame, much like what was done last year for Sam Cristoforetti, and it would be truly excellent to have as many Space Camp alumni as possible in attendance for the presentation!
If you will be able to make it, please send an email to [email protected] with the subject "NYC Event RSVP."