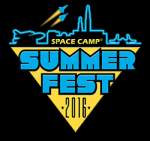 Last weekend marked the second annual alumni weekend, rechristened "Space Camp Summer Fest!"
The weekend is a time to celebrate Space Camp, Space Campers, and highlight all of the amazing goings on at camp.
Like last year, the weekend started off with the Thursday night Biergarten.  The Biergarten is a great opportunity to get some great German food and reconnect with old friends who have come back to Space Camp!
The Biergarten runs through the summer and often features speakers in the 3D Theater.  This week, Ed Buckbee was the highlight, there with others to discuss a new book he edited, The Greatest Space Generation As Inspired by Wernher von Braun.  Space Camp had a professional videographer on hand for that one, which is great, since I was a little too busy catching up with friends to make it into the theater in time!  Hopefully, to satisfy both yours and my curiosity, they'll have it up on their YouTube channel in the not-too-distant future!