Space Camp 30th Anniversary – Weekend Recap
on
June 21st, 2012
at
10:59 pm
Friday, June 15, 2012
Friday morning started 30th anniversary guests off with mini Space Camp and Aviation Challenge experiences, as they got to tour the facilities and play in the simulators.  It's a rare event indeed to get to experience these activities without signing up for a complete Space Camp or Aviation Challenge experience.
Much like they did for the 20th and 25th anniversaries, Space Camp unveiled a display case full of Space Camp relics!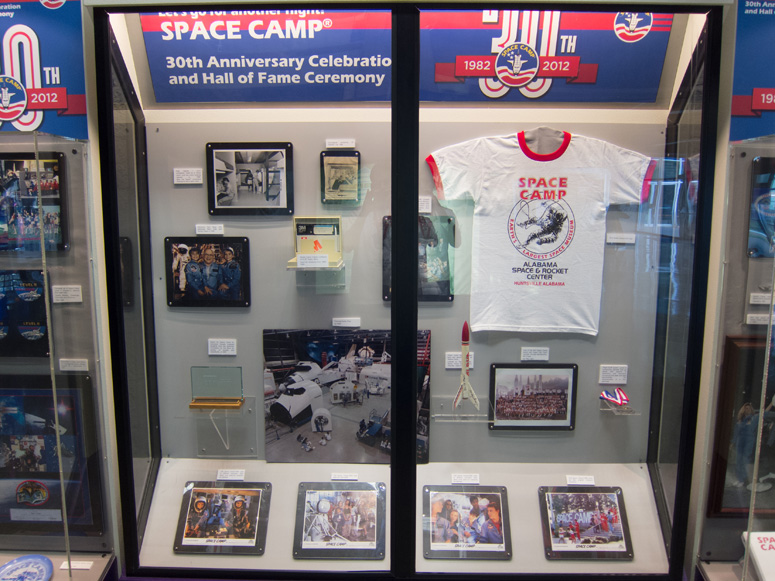 The day's scheduled activities ended with enough time for guests to go back to their homes and hotels to get scrubbed up for the centerpiece of the 30th anniversary weekend, the 2012 Space Camp Hall of Fame Induction Ceremony.
The night started off with a "Parade of Alumni."  Space Camp had representatives from every class year, starting with 2012 Space Camp graduate and newly minted 600,000th trainee, Jenna Allen, and ending with 1982 Space Camp graduate and 1981 pilot program test camper, Jackie Buckbee Witherspoon.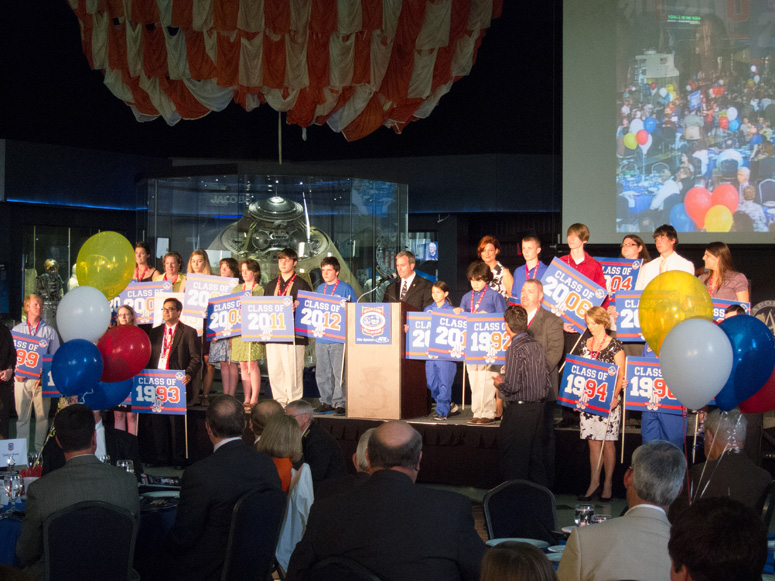 After opening remarks from U.S. Space & Rocket Center CEO Dr. Deborah Barnhart, Alabama Space Science Exhibit Commission member Daniel Wilson, and sponsor ATK's Michael Rudolphi, it was time for dinner.
I've always felt that Space Camp does a very fine dinner service at their events, so I was somewhat perplexed when they announced that, this year, Top Chef finalist Dale Levitski would handle the food.  It was a good call.  He took food service at a Space & Rocket Center event to a great new level!  The meal was good!
The meal started out with a southern classic, Fried Green Tomatoes.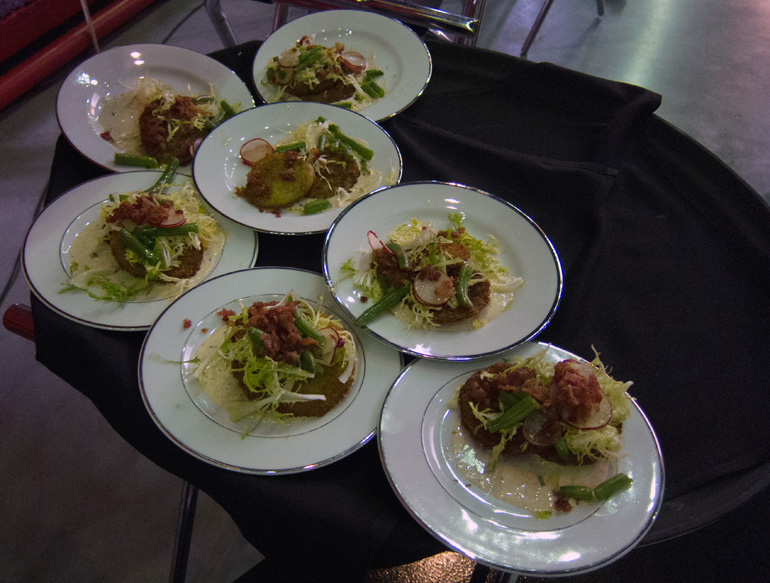 For the first time in the Davidson Center, the main course was served family style.  As Dr. Barnhart  explained, Space Camp is one big family, so it seemed appropriate.
The main course: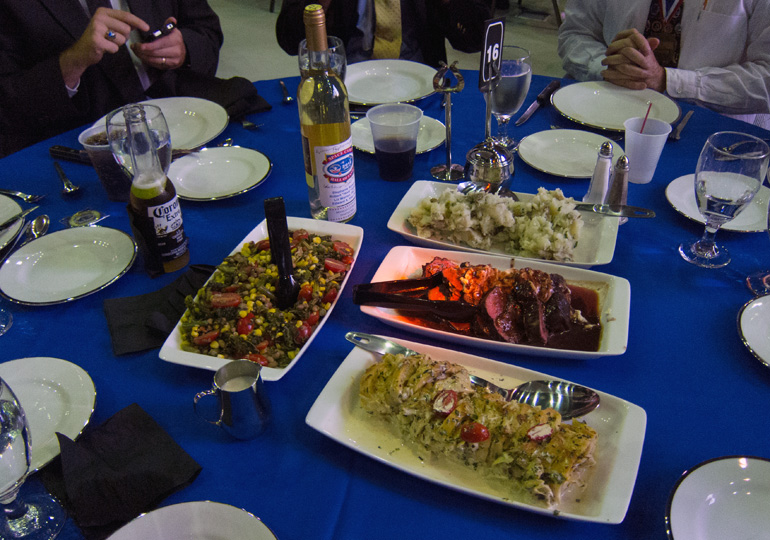 The best thing of all may have been the dessert.  I came to the Hall of Fame dinner fully prepared to behave and abstain from any sort of cake, pie, or cheesecake placed in front of me.
What I wasn't prepared for were chocolate chip cookies with bacon in them and, best of all, Root Beer Floats!  A great classic I hadn't enjoyed since childhood.  It had been so long, of course I was going to have one!  Well done, Dale Levitski!  Should you ever find yourself in Chicago, you should make a point to enjoy some of his fine food.
After dinner the audience was treated to commentary by Robert Lightfoot, NASA's Acting Associate Administrator.  Following him was astronaut Don Thomas and then Ed Buckbee.  If Ed Buckbee was there to celebrate Space Camp's past, his granddaughter, Eliza Witherspoon, showed Space Camp's future with her speech.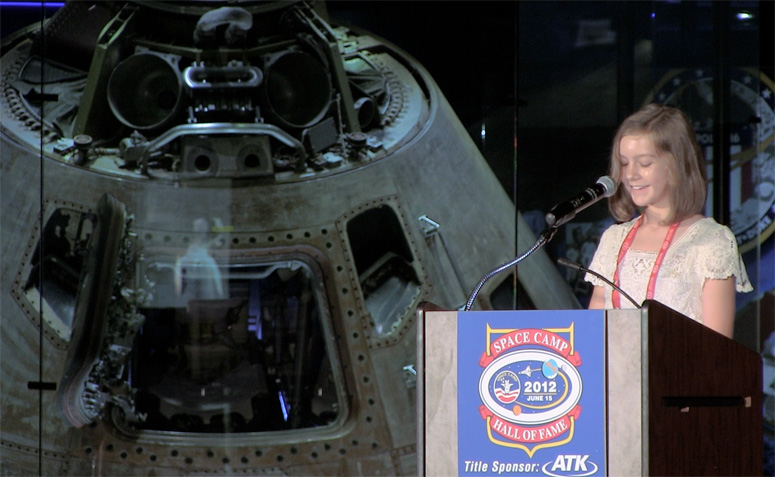 Finally it was time to induct four new faces into the Space Camp Hall of Fame.  One by one, Liz Warren, Ed Van Cise, Stephanie Abrams, and Robert "Hoot" Gibson were inducted, providing very fine remarks in the process.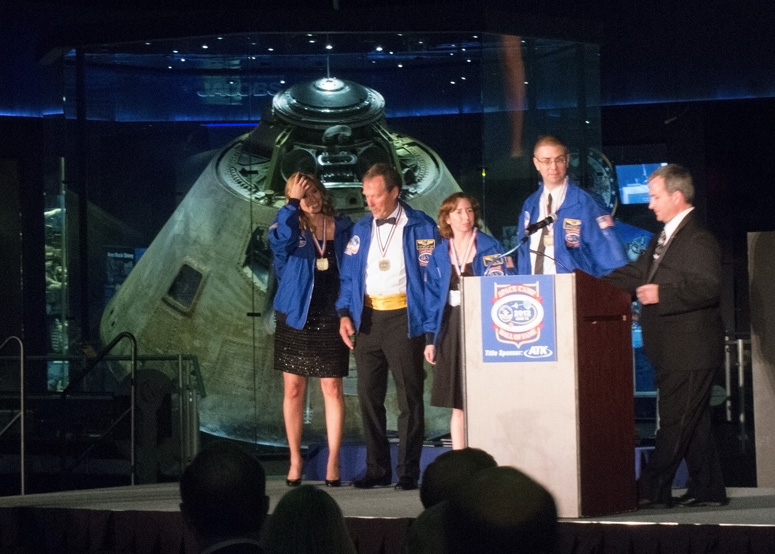 And that was it.  A fine night, to be sure!  With the evening at an end, Space Camp had one final video up its sleeve.  Space Camp showed a compilation video of various well-knowns wishing Space Camp a happy 30th birthday: