Space Camp's 20th
on
June 29th, 2002
at
11:12 pm
After the interviews in the cafeteria were done, all the kids and adults present joined together to sing "Happy Birthday" to Space Camp on the news. After singing, everyone made a mad rush to the cake.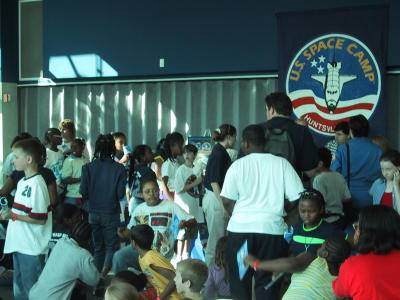 Both child and adult alike swarmed around the cake, leaving little left in the end. Thankfully, the logo remained untouched. It's a good thing, too, as it left the rest of the staff to joke to Chip about freezing it for him until the 25th anniversary where he could then take it out and share it with Space Camp, much like a married couple saves a piece of their wedding cake to have on their first anniversary. Then again, they may not have been joking!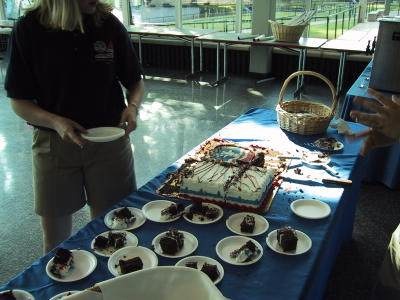 After the cake, the party pretty much broke up, and the news crew moved outside near the Saturn V to further plug Space Camp's 20th Anniversary. I went with Wes and another member of the Space Camp staff from the cafeteria into the bowels of the Space & Rocket Center (okay, well, maybe not the bowels, but I got to see places in the Space Center I didn't know were there!) to fetch TOPS, the lovable Space Camp "mascot!" After donning the TOPS costume, Wes made his way out to greet the people in TV Land, hoping to bring them out to the Space Center.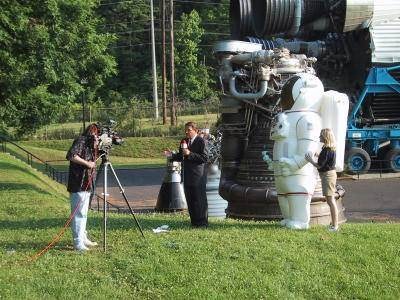 CEO Larry Capps was interviewed once again. Don Phelps's son can be seen in the red shirt, helping out the news crew with the broadcast. As I took this particular picture, I was a bit nervous, as I had just been informed that I was wanted to go out on camera as well. I guess they figured the yahoo who came all the way down to Huntsville to join in the celebration had some PR value. If it helped get even one more person in the door, I figured it would be worthwhile, so I had of course agreed to do it. Later on, they interviewed me outside the entrance to the Training Center Floor. I heard it made it on to the 10:00pm news, but I didn't get a chance to see it (oh darn! 🙂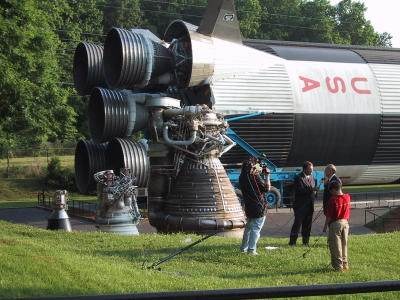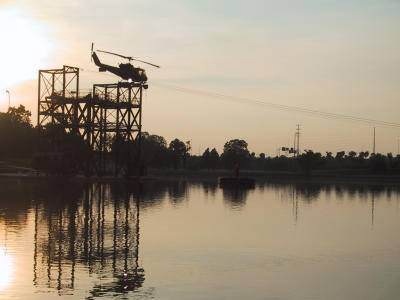 As the evening came to a close, Wes was kind enough to take me down to the Aviation Challenge area and give me a little tour. It was a great deal of fun, as I got to see parts of AC I didn't know were there! I thought I had seen most of the area they use on my way to and from the lake during the Camp/Academy/ASA, but instead found out that there's much more to see… including this great view of the AC tower/lake! After the tour, my evening came to a close. I went back to my hotel room and waited for Saturday to arrive…