Saturday finally came, and I was at the Space & Rocket Center well before it opened! I wasn't alone though, as a surprising number of people arrived just as early as I did! But thankfully, I had my newly acquired membership, so I was able to get into the museum before most of them!

When I got back from my little vacation to Huntsville to be present for the celebrating of Space Camp's 20th Anniversary, I said that I might do a write-up on it…A little tip…whenever I say I think I might do it, someone just send me an email and tell me to do it!
That way, it might get done just a little faster than this did (insert joke about CamperFinder here)!
So, even though it has been a little more than a month, here's my write-up of my trip to the USSRC last May!
From May 23, 2002 to May 26, 2002, I was lucky enough to have been in Huntsville, Alabama to witness the the celebration of Space Camp's 20th Anniversary firsthand. I hope you all enjoy the account of my trip!  I certainly enjoyed being down there!!!
Thursday, May 23, 2002
May 23, 2002 was the day I arrived at the Huntsville airport! It had been almost two years since I was last here. Still, it looks the same (as it did the year before that, and the year before that, and the…well, you get the picture!).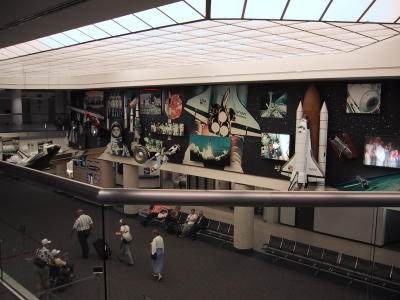 I went straight from the airport to the Huntsville Marriott which is located, of course, directly next to the U.S. Space & Rocket Center. As you can see, my room had a pretty nice view! Needless to say, waking up and seeing that was quite pleasant! The view aside, this Marriott is great! The meeting rooms in the hotel carry such names as "Discovery," "Atlantis," and "Columbia." There's even a meeting room carrying the name, "Challenger," but I think that one's used solely for Enron and Worldcom board meetings.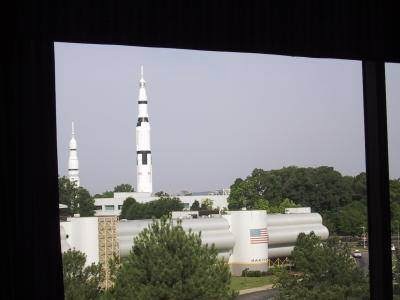 By the time I got to the hotel and checked into my room, the USSRC had already closed for the evening. No matter…I decided to walk the grounds of the Rocket Center. I almost immediately ran into this welcoming site. It's quite a shame that my visit didn't entail me entering through that entrance.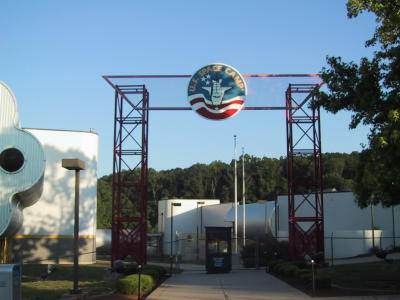 Still wondering around Thursday evening, my travel-weary eyes quickly came across this familiar and much-missed site as it poked through the trees!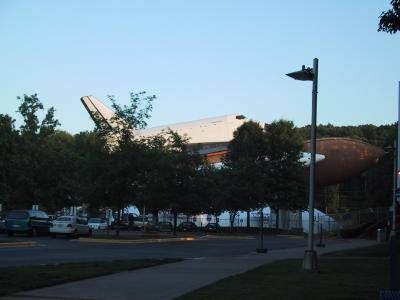 On my way back to the hotel for the evening, the last thing I passed by was also the first thing I passed by. Very near and dear to my heart, it was of course, Hab1(.com)! 🙂 …Off to the left, you can see the back of the Marriott.