After the tour ended, Blake was kind enough to take me up the elevator (yes, that one) and show me around the facilities up above the TCF!!! This great picture shows the view from above! They have some really cool stuff up there…they really should sell tickets to see everything up there, or something!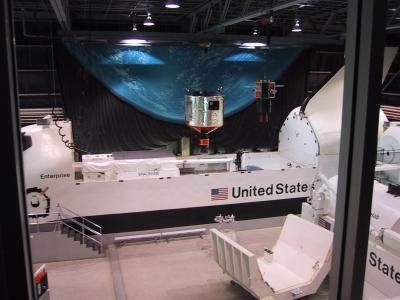 Whilst on my tour of the upstairs offices, I was shown this room, which is used in the Corporate Camps. Here, companies can sit there people down in private and connect whatever they've done at camp to their core business without being disturbed. And if meetings would need to be held during the time the employees are at camp, this place could facilitate it.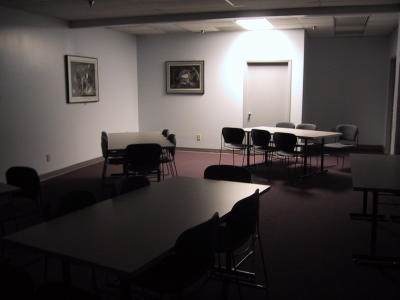 After Blake and I went our separate ways, I made my way back over to the Information Desk (I say "back to" as it was where one registered for the Space Camp/AC tours) where I was more or less recruited to help out! I spent about an hour rolling 20th Anniversary Posters to hand out to visitors along with answering questions they had…"where's x," "how do I get to y," etc. Then, I made my way back upstairs where I got to have lunch with various staff and volunteers, as well as the mascots of the local minor league baseball team, the Huntsville Stars. I spent another hour at the Information Desk handing out posters and such before going to help pass out birthday cake!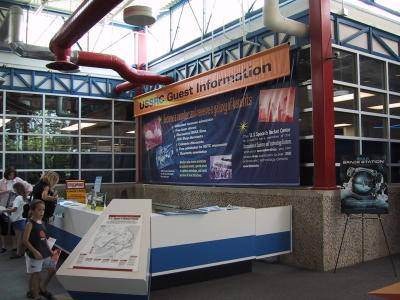 Passing out birthday cake was a time-consuming process…as soon as you'd get one cut and passed out, they'd bring another one right out! The visitor seemed to like it though, and I had a great deal of fun! At the same time, I somehow managed not to get any cake or frosting on me, which was a plus!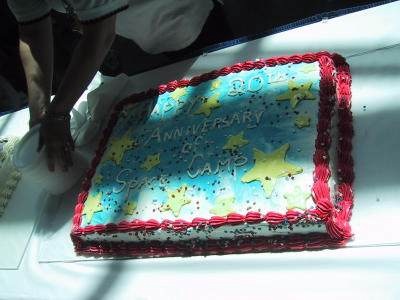 After finishing my lunch, Al Whitaker, the USSRC's Media/Public Relations Manager, gave me a ticket to the Huntsville Stars game that evening! The Space & Rocket Center had purchased a Skybox for that evening's game for management and their families and he was kind enough to give me a ticket! So, Saturday evening, I found myself setting with a bunch of people who actually get to go to work at the Space & Rocket Center every day! I couldn't help but be a little envious as I sat there and watched the game! 🙂 …The end of the game came all too soon. I went back to my room with less than a day remaining in my trip.